The Lady Chapel was dedicated in 1910, being converted from its original function of a vestry. When you go outside look for the flight of stone steps which originally gave direct access into the vestry, but the doorway was filled in at the time of conversion. The chapel contains much oak carving and panelling and an oak piscina.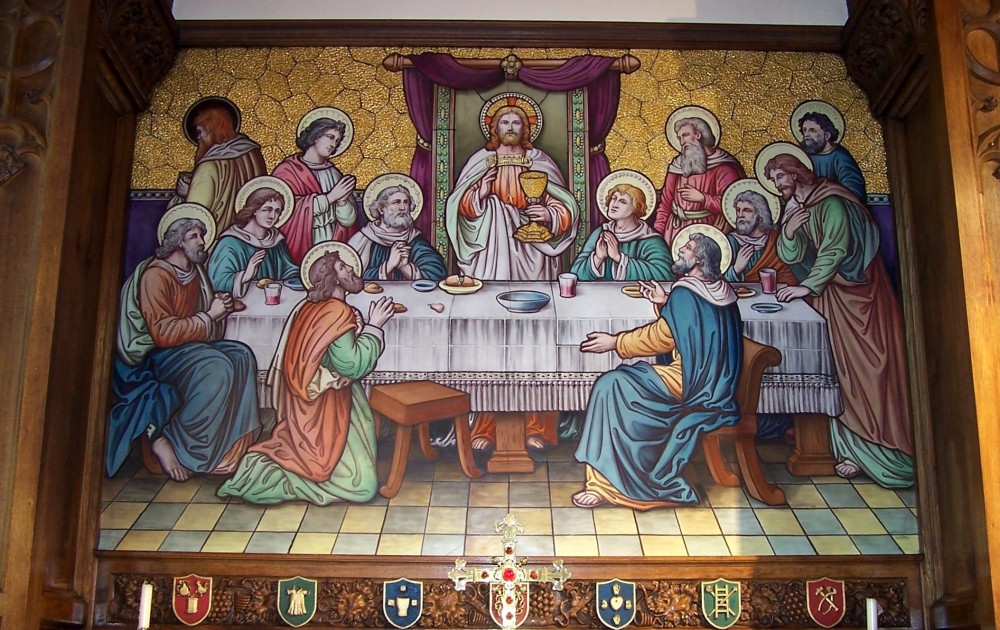 The reredos, or Opus Sectile, portrays 'The Last Supper' in painted glass tiles, and beneath it are carved emblems of the Passion, from left to right they are, a bag of silver, a lantern and a cock - these signify the betrayal and trial of Jesus. The seamless coat worn by Jesus. The cup and dice, used by the soldiers when casting lots for Our Lord's clothes. The nails and crown of thorns. His heart, hands and feet, showing the prints of the nails. The spear, with which Jesus' side was pierced, a sponge on a reed, and a ladder typifying the descent from the cross. A hammer and a pair of pincers with which the nails were driven in and removed

Willis Window
The stained glass windows depicting St Edward and the Blessed Virgin Mary was inserted by Mr G H Willis in memory of his wife. The window was dedicated on Whit Monday, 5th June 1911 and was the first stained glass window to he inserted in St Edward's Church.
The Blessed Sacrament is reserved in the Aumbry adjacent to these windows. Note the perpetual light in the left hand corner. The Chapel is a place of quiet prayer we ask you to remain quiet whilst in the chapel. Why not sit a while and pray if you wish.

George and Lillie Stone window
The latest church window, the Lillie and George Stone Lady Chapel Window, was installed in 2012 and dedicated in March 2013 by the then Bishop of Wakefied Stephen Platten.
Money for the window was bequeathed to the church by Lillie Stone.
George and Lillie were devoted to St Edward's Church and gave it great support for many years.
George was a bank manager and Lillie was a piano teacher. They were both very talented musicians; George played the cello and they both loved classical music. They were members of the Barnsley Musical Society and gave hospitality to all the visiting musicians who came to perform or give talks. The window reflects this aspect of their lives.
George was a Reader for many years doing sermons and taking Evensong. They hosted Lent groups in their home in Dark Lane and Lillie was a long-time member of the Flower Guild.